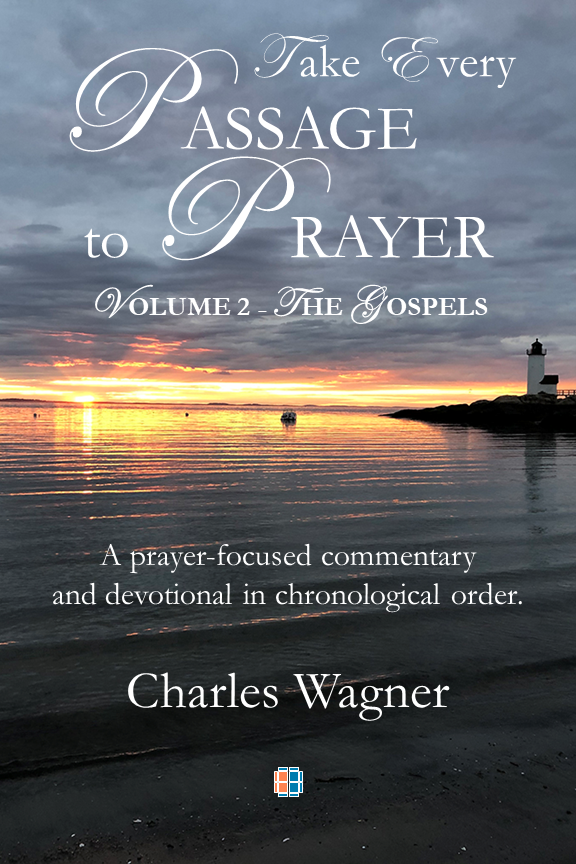 Plan for Future Releases
Volume 3 - Acts to Revelation: January 1, 2023
Volume 1 - The Old Testament: January 1, 2025
Take Every Passage to Prayer
Volume 2 - The Gospels
Take Every Passage to Prayer, Volume 3 - The Gospels is a prayer-focused commentary of Matthew, Mark, Luke, and John in chronological order of events. After reading the testimony about how Jesus Christ transformed the life of Charles Wagner, the author, the reader follows the life of Christ, one event after the other, from His birth through His ascension. It was written to give practical application and insight on each passage for the author's friends and family who had no plans to attend seminary. The use of bold text, tables, and bullets is ideal for the reader who only has a few minutes to scan the commentary on a passage. This may be the only commentary of the Gospels on the market in the form of a personal letter written to God the Father about each passage. Each entry begins with a prayer by the author about how his life can or should change because of key insights in the passage. With historical information and over 1,000 footnotes and hundreds of references to passages throughout the Old and New Testaments, the more scholarly reader will find the book an interesting read.
Lord willing, this grandfather and resident of Cape Ann, Massachusetts, will complete Volume 3 - Acts to Revelation by the end of 2022 and Volume 1 - The Old Testament by the end of 2024. Charles Wagner, a member of a church in the PCA community and a web application developer, is passionate about local outreach. His online local outreach ministry training simulator, 72Stories, is scheduled for release to churches in the Fall of 2022.

Reader Reviews
Believers in Jesus Christ, of various denominations, received a PDF copy or a printed copy of the entire 508 page book shortly after Charles Wagner finished it. Here are their comments:
"Wow, Charles, this is incredible...Amazing. There is so much here. I would have to have this book beside me as a resource."..."Very impressed!"...I'm hooked. This is really cool. And you can read as much or as little as you want at a sitting."..."I'm about to do a study of the New Testament. I want to use this book."..."I'd like to purchase several copies for my parent group at church."..."This is truly an all-in-one book - devotional, commentary, prayer guide."..."From what I've read It's as much a commentary as it is a collection of prayers."..."Like I said Very cool. Very amazing. I know this is coming from a friend with a third grade theological degree but I really like this."
"I love the way you have provided historical background that helps me understand what life was like in the first century."..."It's rich with history and background information. I can't imagine how many hours you spent doing research."..."But interweaving the relevant histories is awesome. I salute you. Praise God."..."I also like reading some of the history and comments about the timing or any contradictions between the gospels."
"Each prayer before each passage - amazing prayers."..."I think it is not only fabulous, but inspired. I love it. The prayers alone are wonderful."..."The opening prayer for each passage is quite helpful to kind of set the stage. I especially like when you end a passage with a prayer. It is common in the Bible studies I have gone to for the leader to ask if anyone in the group will close with a prayer. That can be a tough ask for shy, insecure Christians and here you offer one right on the spot!"
"I started reading Every Passage this afternoon and got hooked . You're writing style is perfect for me."..."You synthesize all the stuff you've read and write really short precise paraphrases."..."I've always appreciated your writing style and voice."..."Your creative way of making dialog and questions come to light and your explanations. It is actually fun to read and it is so creative."..."I really like this! The format is easy to follow and, of course, I love the sense of humor that is woven into your thoughts."..."The way you write connects with people. You speak in layman's language for those who are not deep into theology. However, you also have written this for those who want to dig deeper. I am really impressed."..."I can see this being useful with youth groups."
"The book starts with your authentic life journey. I wanted to continue reading from there."
"This obviously took a long time (and there are two other volumes!) and I think these volumes will be a blessing to many who struggle to grasp what exactly they are reading in the Bible. Thank you!!"..."My wife and I were blessed. It's amazing the insight God gave you through the Holy Spirit to write this prayer and commentary."..."Wow! Your commentary is quite comprehensive and only the committed reader will be willing to plow through this devotional, meditative, thought provoking work. Well worth their time to be sure.
"We found this book to be an inviting approach to the gospels. The prayer that incorporates the events of the "Woman at the Well" was very helpful and insightful. I found it helpful to my own approach to prayer. You are on to something that will help so many people at it gets into the hands of those in need. We both encourage you to push on to get the book to final form and also to complete volume 3."